This ritual experience is perfect for you if:

* You're looking to trust within your self and to find move towards what is aligned for you.
* You're seeking to connect deeply with your authentic self.
* You wish to release fears so that you can feel worthy of what you desire.

Through this sensory ritual you will:

* Step into grounded confidence in the here and now to boldly move forward into authenticity.
* Have an instilled sense of worthiness and optimism so you can truly connect and manifest abundance.
* Feel a readiness to take inspired actions towards your goals.

Personal Power
The ritual
This Personal Power experience is anchored in a ritual using:
1. A Triphane crystal or crystal for the Solar Plexus
2. Aromatherapy "Personal Power" blend
3. 20 minute guided meditation

These tools work together to create the safe space and vibration for tuning inwards and listening to the messages from your heart, body and soul.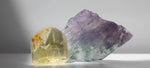 The Personal Power Experience is a ritual designed for you to experience at home, on your own time, as often as you like.

Each of the elements of this experience (crystal, blend, meditation) are available for purchase separately.
THE AROMA
PERSONAL POWER BLEND
Shift into the light with our Personal Power blend. Created to help you boldly step into your authentic self.

Hero oils: Bergamot Calabrian, Jasmine, Hyacinth, Green Mandarin, Vanilla, Hinoki, Tangerine, Melissa..

A blend of organic oils to support the properties of the beautiful energies of the spodumene varieties, Kunzite and Triphane, this scent will help to relieve tension and fear, giving you a grounded confidence.

A very fresh and uplifting blend with a floral and citrus aroma with a subtle touch of vanilla. Bringing the aspects of emotional harmony, this blend will help you on your journey to confidence, optimism and abundance.
BUY NOW