Creativity can look like, writing/journaling, singing, dancing, playing music, painting and drawing. It can also look awfully intimidating. How many times have we told ourselves "I'm not creative" or "I would be terrible at that" or the most dangerous line - "I'll look silly doing that"?

Creative expression takes courage and vulnerability - it requires us to trust ourselves and be brave enough to express ourselves authentically. It requires us to take a risk and take action, move through our own self-doubt and fear of judgment in order to fully explore and express ourselves. 

But what is creativity exactly and what does it mean to express yourself creatively? Creativity is a process that involves imagination, play, curiosity and the ability to explore new possibilities. It is about exploring and discovering new ideas and solutions and creating something new.

Creative expression is how we outwardly express our thoughts, emotions and ideas. It enables us to communicate our innermost feelings, allowing us to process and articulate our experiences, nurturing personal growth and connection with ourselves and others. This form of self acceptance helps us to lean into our authentic selves in an expansive way.


"To be creative means to be in love with life. You can be creative only if you love life enough that you want to enhance its beauty, you want to bring a little more music to it, a little more poetry to it, a little more dance to it."
- Osho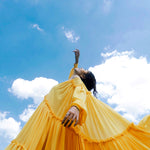 Allowing your creative energy to flow freely has the potential to decrease anxiety and stress, improving your overall state of well-being. You don't need to possess any great artistic talents to reap the benefits of creative expression - by simply trying something new can have an effective impact on your mind set.


So how can we connect to our creative self? Take a moment to reflect on your childhood and think about activities that truly made you feel a sense of joy. Were there any activities that allowed you to become completely absorbed in the moment? Remember, there isn't a single correct way to express your creativity. The beauty of creative expression lies in finding an approach that resonates with you and incorporating it into your daily rituals.

The Sacral chakra is located in the lower abdomen, just below the navel. This chakra is associated with creativity, pleasure and emotional well being.

Some ways you can connect with your Sacral chakra:

• Meditation
Sit in a comfortable position and focus your attention on the area of the sacral chakra. Visualize a warm, orange glow in that area, and imagine it expanding and radiating positive energy. You can also use affirmations related to creativity, pleasure, and emotional balance during your meditation.

• Movement and dance
Engage in activities that involve fluid movements, such as dancing or yoga. These practices can help activate and balance the energy of the sacral chakra,the release of endorphins allowing for a more uplifted mood.

• Creative expression
Explore different forms of creative expression, such as painting, writing, or playing a musical instrument. Give yourself permission to play and be curious. Try new activities, perhaps something you've never tried before. Maybe you'd like to revisit an old hobby. Use this as an opportunity to explore new ways of doing things. You don't have to be good at it, you just need to feel the joy of trying something new.

• Embrace pleasure
Allow yourself the time and space to experience pleasure in various aspects of life, whether it's through enjoying good food, reading a book, listening to music, or nurturing healthy relationships. Add an element of pleasure to your daily rituals.
Creative expression can look like:
Writing/Journaling/poetry
Singing
Dancing
Painting/drawing
Cooking
Photography
Listening to or creating music
Sewing

INNER GUIDANCE
FLOW

Give yourself permission to play, make mistakes and lean into vulnerability. Mistakes can be powerful learning opportunities and are an important part of any creative journey. Allow yourself the space to explore and experiment without judgment. Let your intuition guide you and allow yourself to flow.


"Remember to delight yourself first, then others can be truly delighted."
Sometimes people wonder or worry whether people will like or approve of their creative expression. It's none of your business. It's your business to stay present and focused for the work of your deepest dreams. It might look crooked or strange, or be very odd-but if it delights you, then it is yours, and will find it's way into other hearts."
- SARK


your ritual tools
Creativity
"Art is the overflow of emotion into action."