Uluna was founded in 2017 by a mother and daughter merging their expertise in aromatherapy, gemmology and meditation to create luxurious, sensory rituals to support people on their journey to wellness.

Each product is created to be an enjoyable and transformative experience for the mind, body and spirit.

Uluna's vision is a world where mindfulness is a part of everybody's every day.

MEET THE FOUNDERS

Julie (Mum) and Stacey (daughter) began Uluna as a way to express their creativity and pour their energy into their passions. With a drive to work in alignment with their life purpose, Uluna was birthed into the world.

Uluna [say ooo-luna], is derived from the Hawaiian word for "to flourish" - the sentiment behind the brand.

Crystals and aromatherapy have been a key tool leaned on by both Julie and Stacey throughout their own lives, supporting their own growth and road to joy and contentment.
ULUNA VALUES

COMMUNITY - EDUCATION - AUTHENTICITY - KINDNESS

With decades of combined expertise and a focus on the science behind each product and ritual. Uluna has an eye for quality and firmly anchors their values in the ethics of their crystals and botanical ingredients.

Uluna believes that crystals and aromas are tools not solutions and provides the community with a holistic and full-bodied approach to their wellness rituals. This includes regular opportunities for education, community support and guidance with health and wellness practitioners.
MEET THE FOUNDER
STACEY LIM FGAA Gemmologist
Stacey is Uluna's co-founder, meditation therapist, transformation coach and current Vice President of the Gemmological Association of Australia VIC Division. She has over 14 years of industry experience and a lifetime of rock (mineral) collecting.

She is passionate about inspiring people with the science behind crystals and mindfulness to empower others to create a contented life.

"I see the potential in everyone to obtain self-mastery and work with their energy to live their best life and feel their best in it."
RITUALS
A ritual is an intentional act with a deliberate set of actions to anchor our energy into an intention. The repetition of such ritual can create changes with the mind and body that manifest changes within our lives. 
The sensory experience of rituals is the most potent way to rewire the brain and connect to yourself.
MEET THE FOUNDER
JULIE WEYBURY, AROMATHERAPIST
Julie is Uluna's co-founder and deeply passionate about supporting others through the energetic and emotional benefits of essential oils.

Each blend is carefully created to not only serve a purpose but enrich your daily rituals through the powerful aroma of each unique combination.

For bespoke aromas to support your unique energetic needs, email julie@uluna.com.au or explore our full collection.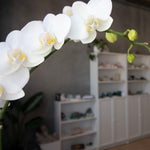 visit us
crystal gallery + wellness hub
Here at Uluna we believe happiness and wellness are deeply connected and a result of alignment between the mind, body and soul. We believe this can be achieved by being present, connected to your own energy and understanding all the parts that make up your whole self.


Our team of passionate and dedicated practitioners are here to help guide and support you on your journey to wellness.