Have you ever smelt something and been transported back in time? This is the magic of the limbic system of the brain and olfaction at work! Our sense of smell is the quickest way to draw upon a memory.

Memories are stored when there is emotion and sensory input for the subconscious mind to anchor it to. Much like how we can be triggered into feeling overwhelmed and stressed by particular sounds, smells or visuals, conversely we can find safety and calm with others. When we create a meaningful ritual that  engages our senses and evokes emotion (be that joy, awe, love, gratitude or otherwise), we are beginning to forge a new memory and positive energetic association with that process.

Essential oils bring another layer to this olfaction process, their molecules are naturally derived and have their own therapeutic properties as well as triggering particular emotions and energies within us>

When working with an aroma blend, you're bringing together multiple scents, energies and emotions to target a specific outcome. Our aromatherapist Julie curates beautiful scents that not only smell good, but serve a bigger purpose. 
Smell as creative inspiration

As we know, creative inspiration can come from many different places and be expressed in many different forms. Personally I love the process of being creative and enjoy many forms of creativity in my personal life.

There are times when I am stuck for inspiration so I make the most of my love of essential oils and use these beautiful aromas to inspire me and, at times, use the actual oils in my art.

My ritual begins with choosing a blend or individual oil that I feel connected to on that particular day. I find myself a quiet place to sit uninterrupted and apply my blend or simply smell a single oil. I close my eyes and let my mind wander. What does this aroma bring to mind? Can I see colours associated with the aroma? I don't edit these thoughts in any way but onceI have a clear picture in my mind I begin the creative process.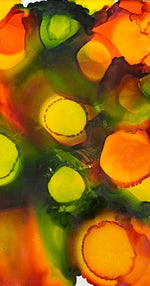 I have one image that is so simple. It comes from my own "Zest blend" which gives rise to images of citrus. I simply applied drops of alcohol ink to "Yupo" paper and let them settle.

I have another which I created with pouring medium for one of my favourite oils, Vetiver. The smell of grass and moss and wood inspired random patterns in greens and browns and I added some vetiver oil to the pouring medium so I have captured the image and aroma in one.
"Smell is a potent wizard that transports you across thousands of miles and all the years you have lived. The odours of fruits waft me to my southern home, to my childhood frolics in the peach orchard. Other odours, instantaneous and fleeting, cause my heart to dilate joyously or contract with remembered grief. Even as I think of smells, my nose is full of scents that start awakening sweet memories of summers gone and ripening fields far away."

- Helen Keller