MESSAGE FROM OUR FOUNDER
THANK YOU
This winter we explored 11 wellness advocates, their knowledge, guidance and how they show up in their lives and for their clients on their journey to wellbeing. Here we explore a key takeaway from each woman's contribution to this nourishing series.


On behalf of Uluna, i'd like to thank each of our Winter Wellness contributors for their time, energy and dedication to supporting the community.
The pathway to wellbeing isn't linear and can present new challenges as we grow and develop. Each of these inspiring women bring their experience and knowledge to support you in their own unique way.


The thread of similarity is in their heart centred approach and ability to create safety for you to be seen, heard and valued. This creates space for your healing to take place.

Thank you all, XO Stace
TRISH DEVEREAUX - HIGH HEALTH CLUB
"The old adage of 'you are what you eat', is more accurately, 'you are what you absorb'."

Trish advocated mindful eating and gut health, among other modalities like breath work and ritual practices. Trish stresses the importance of not just what you it, but how you eat, suggesting that when food is absorbed in a state of calm, our body is in an optimal state to be nourished.

Next time you create a beautiful fresh meal, check in with your nervous system and ensure you have space to lean into the sensory experience mind, body and spirit.
HIGH HEALTH CLUB
sanya minocha
"I believe that our body, and in particular our emotions, are one of the most direct paths to us realising our true potential and experiencing true peace."
Sanya dives deep into the power of emotional digestion and leans on her experience as a holistic counsellor to support women in connecting with themselves in new and powerful ways.
KENSHŌ WELLNESS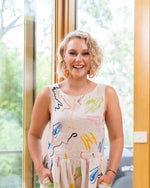 ASH BELL - CEREMONIAL CACAO

Ash is a master weaver of ceremony, bringing together the potent life force energy of sacred cacao into her practices. She's an advocate for a grounded approach to your healing and shares her love and insights of this simple yet transformative ritual.

"Every moment of every day can be sacred and therefore you don't have to wait for the perfect or quiet time. Weave practices into your life to make them simple and attainable."
loretta carraro - nourished energy

Loretta brings her heart centred energy into all that she does. Leading with reiki and exploring various modalities and tools for healing the soul. She believes in surrendering to the experience of energy and allowing the magic to unfold so you can see and access your highest potential.

"I am here to empower lightworkers to be masterful practitioners for themselves and for their clients."
georgie collinson

Author, podcaster and renowned anxiety expert, Georgie sees the potential in everyone to free themselves from their anxious mind and body. She describes high-functioning anxiety is essentially being very good at pretending that you don't have anxiety and helps others regain their self worth and power.

"Anxious thoughts and fears hold us back from truly tapping into our potential and the love, health, freedom and joy we're meant to experience."
JULIE WEYBURY - aromatherpy
Uluna's co-founder and potions master dives into the power of scent and how it can help you deepen your daily experience through activating memory and emotion.
"The joy essential oils bring has been a part of my life for many years."
stacey lim fgaa - gemmologist + transformation coach
Uluna's co-founder and crystal expert believes that meditation and rituals are the key ingredient for living a contented life. This one simple act of self care each day can improve your health, mindset and ability to feel joy.
"I see the potential in everyone to obtain self-mastery and work with their energy to live their best life and feel their best in it."