This ritual experience is perfect for you if:

* You're looking align with the energies of Moldavite, Meteorite or Tektite to activate your flow state.
* You're seeking a deeper connection through your meditation practice.
* You wish to activate your higher Chakras for clarity and insight.

Through this sensory ritual you will:

* Feel more focussed and mindful in your daily life.
* Have a deeper connection and focus to your practice.
* Experience a raise in your vibration to feel lighter and more optimistic.
FOCUS & EXPANSION
THE RITUAL
This Focus & Expansion Experience is anchored in a ritual using:
1. A Meteorite or Tektite
2. Aromatherapy "Focus" blend
3. FREE 10 minute guided meditation

These tools work together to create the safe space and vibration for tuning inwards and listening to the messages from your heart, body and soul.
The Focus & Expansion Experience is a ritual designed for you to experience at home, on your own time, as often as you like.

Each of the elements of this experience (Meteorite, blend, meditation) are available for purchase separately.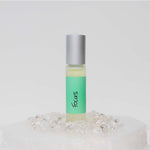 THE AROMA
FOCUS BLEND
Created to help us with focus during meditations, study, reading or any other time your mind wanders when you don't want it to.

Hero oils: Basil, Peppermint, Rosemary, Eucalyptus, Lemon, Cardamom, Grapefruit, Bergamot

Deepen your practice and connection to subtle energies, feel light, refreshed and in your state of flow.