What inspires you?

Storytelling in all its forms. I am endlessly inspired by the way people express themselves and how they tell their most personal and important stories through a form that is unique to them. 

Photographer - @patityrell
Dancer - @jasmine.lee.sheppard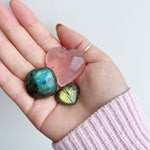 What crystal are you carrying at the moment?

A Rose Quartz heart and the tiniest Labradorite heart and tumble. These live in the depths of my bag at the moment and are great reminders to pause, take a breath and be present. I love that combination of crystals so much I have similar pieces next to my bed and near my creative space at home.
I think every person, not just children needs a cheerleader to help affirm our inner strength and confidence. I am especially taken by the words"delights in their existence". What a wonderful way to consciously move through life and appreciate the people around you. At our very core, we just want to feel seen and heard, something that can be quite challenging in a changing and often uncertain world.

I found these beautiful words on the instagram @peacefulmindpeacefullife - a lovely mother/daughter duo (Barb and Michelle) full of insightful quotes and advice that make for great mindful prompts to think on for a day. The comments on their posts are also a fantastic read for other people's interpretations and experiences. I highly recommend a follow! 
RITUAL
MORNING MOMENTS
I always try to have at least 10-30 mins of 'me' time in the mornings. This helps set up my day and helps clear my head before my work thoughts start creeping in. I love what I do and find it hard to quiet my creative brain so taking a small amount of dedicated time in the mornings means that I can move into the day feeling balanced and centered.
I like to cleanse my space - this involves either lighting a candle or incense, my favourite incense at the moment is Oud Boheme from Maho Sensory. I don't really journal - I often prefer meditating or reflecting on an inspirational image or words that I've come across. Sometimes it's just staring at the wall with a tea, cacao or coffee in hand and that's ok too. It's ok to just 'be' for a little bit. If I have a lot going on in my head though, I love to just put on some music - usually a house music playlist to get my body and energy moving. For me, my morning ritual is about honouring how I feel at that moment and setting an intention for the day. I always end it with a little roll of our L.O.V.E  blend. It's one of my favourite blends of our collection. Because I use it in my morning ritual, when I apply it in the afternoon, I am brought back to my morning moment and am reminded of my intention for the day.My morning ritual can vary, I prefer to do what intuitively feels right on the day. As long as I make the time, be it 5 mins or 30, anything goes but no scrolling on the phone though - naughty!
L I S T E N
A playlist just for you
I've added a link below to my morning ritual house music playlist. I usually just choose a song on Spotify and go from there but have created this one just for you! It's full of old house classics and a few new ones - if you aren't feeling a dance floor vibe (I must admit a few songs on there take me back to my fresh 18 year old self in a club and I'm not sure that's quite what I want to remember in the mornings) I've also linked to a more relaxed chill out deep house set on YouTube. This one is perfect for housework or studying or even great shower music. It's just two Djs on a mountain in Montenegro with stunning footage of Lake Skadar and its surroundings - just beautiful!

SPOTIFY - house classics here.
YouTube - chill out deep house here.
R E A D
Mushrooms
I've become very interested in mushrooms since I started adding mushroom powders to my cacao and coffee - my favourites are from Teelixir. I recently watched Fantastic Fungi on Netflix (I highly recommend), I have become fascinated with Fungi, what they can do for us and the world we live in. 
Entangled Life - Merlin Sheldrake

Yes, those are mushrooms growing out of his book! Merlin takes you on an incredible journey into an often hidden world of these fascinating organisms. This is a wonderfully written read that will have you seeing the interconnectedness of the world around us and how we fit in.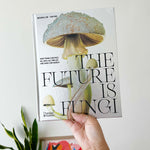 The Future is Fungi - Michael Lin & Yun Shu

This is a great introduction to Fungi - it covers food, medicine, psychedelics and the environment. If you have watched the nexflix documentary Fanastic Fungi and loved the incredible animations and photos - then you'll love the real life and 3d futuristic images in this book. 
SHOP
Liv Lee Prints
I recently purchased two risograph prints by Sydney based illustrator Liv Lee. These were limited edition prints to raise money for people affected by the floods in the Northern Rivers. The colour and humour in these prints really appealed to the kid in me (also anything pink is also a win!). Liv's playful prints are of often wibbly wobbly botanicals that inspire joy and a sense of fun. She has just done a collaboration with scarf brand Centinelle and it's so full of joy. Wobbly bananas on a scarf? Wonky fruit salad? Yes please! 

@liv.leeee
https://www.livlee.com.au/
https://centinelle.com/collections/liv-lee
LOOKING FORWARD TO IN APRIL
Growth
April for me is all about growth (both figuratively and literally!)

* Breathwork workshop with Owaken
* Mushroom cultivation course - https://littleacre.com.au/
* Uluna crystal school
* Shooting some exciting new video content for Uluna