INSPIRE
"Smell is a potent wizard that transports you across thousands of miles and all the years you have lived…"

I am constantly inspired by an amazing quote by Helen Keller. I still recall the first time I was transported in time with my sense of smell and how powerful that was. My mother in law gave me a cup of Chamomile tea and I was immediately a 6 year old playing in the grass in our backyard with my sister Pam. It is always my aim to create this sensation for people with our Uluna blends.
I am a lover of books of all kinds, and generally have more than one book on the go at any given time. I am a passionate learner and constantly read for knowledge.
At the moment I am revisiting another passion of mine - Colour therapy, and rereading  "Colour Therapy" by Nina Ashby and "Holistic Chakra Balancing" by Martha Reed. I like to revisit many of my books as my brain does not seem to easily hold or recall information as efficiently these days. This has its advantages by the way…I get to relearn something new all the time :-)

I have also just started a novel gifted to me for my recent birthday "The Lost Apothecary" by Sarah Penner. Now I just need a week in the sun and an endless supply of hot tea, perhaps a biscuit or 6 and I will be set.
Connected to my love of colour is my love of mindful colouring in. Yes, the child in me has never left, and the amazing colouring books so many artists have shared with the world in recent years has given me the opportunity to indulge my childlike whimsy for all the joy that this meditative and creative time brings. Quiet time with my colouring books and beautiful pencils, which smell like childhood, allows me to ignore the world and get lost in a fantasy created by incredible artists such as Millie Marotta, Johanna Basford and Adriana Picker.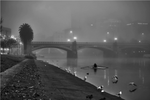 LOVE
MATT IRWIN - PHOTOGRAPHER
Oddly enough, despite my love of colour, I also LOVE black and white photography. The works of Melbourne photographer, Matt Irwin, have provided me with endless hours of dreaming and focussed meditation. Losing myself in his misty, wet, reflective photos is an easy entry into the quiet state of mind that allows my brain to rest and my body to enjoy the flow of natural breath work.
Artwork (updated weekly) – Matt Irwin
Yarra Mornings – Matt Irwin - This is one of my personal favourites of the current available images. You will see why I get lost in his beautifully composed photos with amazing use of light. 
RITUAL
GROUNDING
One of my favourite rituals is to go outside after rain, or during, if it's not too cold, sink my feet into the wet grass (still love grass) and feel the fresh energy of the earth, washed clean and reinvigorated. I like to close my eyes and take deep breaths, drawing in the smells of nature…it clears my head and reinvigorates me also, everytime.
I am so grateful for the wonderful life I have and the wonderful people in it. Everynight, before I sleep I write in my gratitude journal - one thing that made me feel happy that day. Sometimes that is as simple as a delicious fruit salad or as precious as a hug from a grandchild or as complex as achieving a new skill but I always aim to close my eyes at night with a positive thought and a smile on my face.